R
i

sopr

i

nts from Frankfurt am Ma

i

n
We print art for the next exhibition or concert-flyers or posters for an upcoming rallye or a brochure with illustrations and poems and so on.
We like to print the beautiful things and those that we can relate to in terms of content and politics.
We print limited editions of 10 copies or in bulk to reach the masses.
We print in single or multi-colour, from DIN A8 to DIN A3.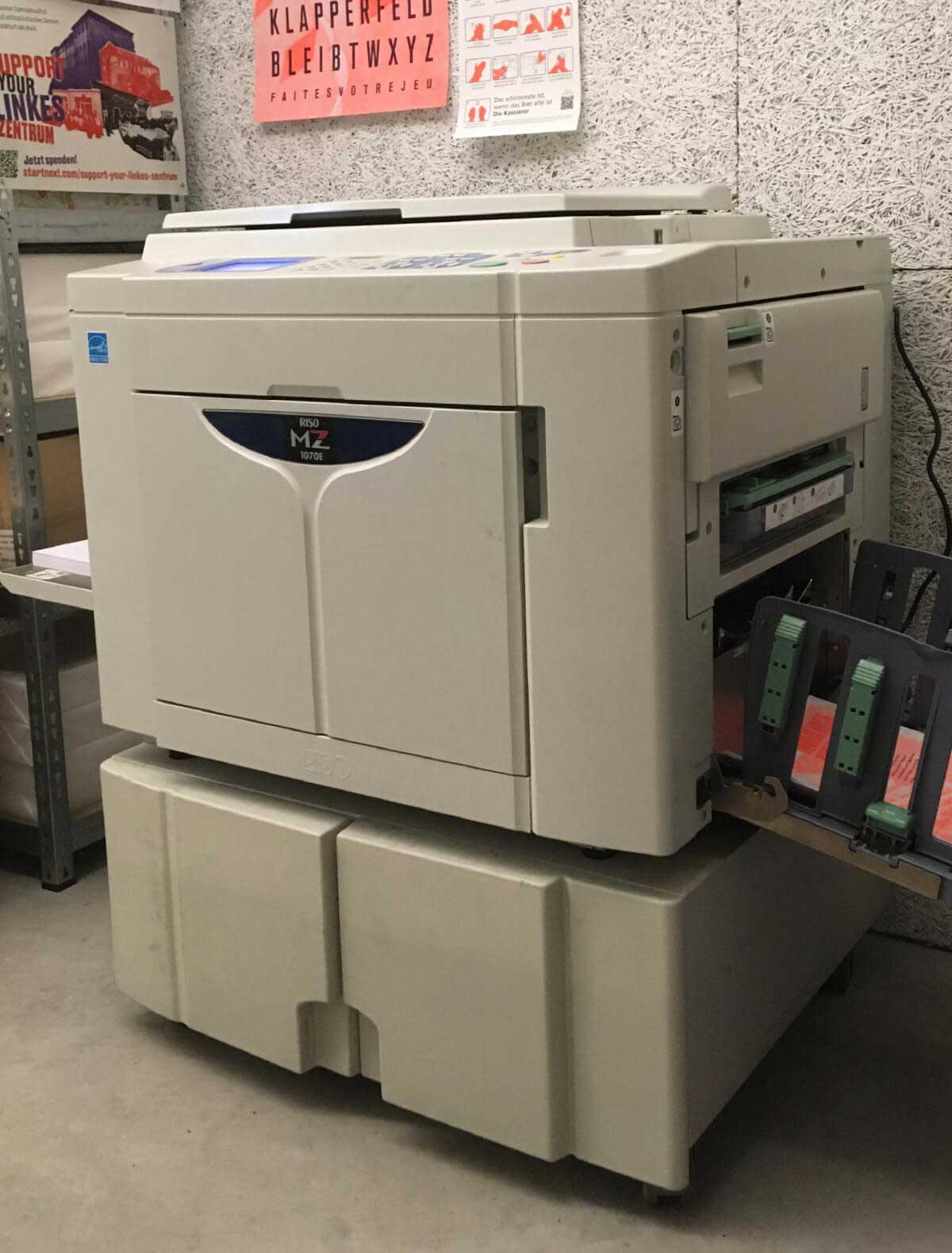 Colors
Currently we have eight color drums in stock with the following colors: Black, Crimson, Fluorescent Orange, Fluorescent Pink, Light Gray, Purple, Teal, Yellow
Paper
Important! Our beautiful Riso colours can only be applied to uncoated paper. This type of paper has an open-pored, slightly rougher structure. Usually they can still be written on after printing.
By default, we print on paper with grammages from 80 to 270 g/m². After consulting with us and making a test print, we can also print on paper up to 350 g/m².
If you need help selecting the right paper, drop us a line.
Means of product
i

on

Because we have two drums we can print two colous in one print run on our RiSO MZ 1070E. The machine has a resolution 600 × 600 dpi with a printable area of 287 × 410 mm. Normally we process paper in the format DIN A3 (297 × 420 mm). After consulting with use we can also print on paper in the format SRA3 (320 × 450 mm).

To produce the final paper size we use a lever-based cutting machine or – for larger editions – a guillotine cutter.

With our folding machine we can fold paper of a size up to DIN A4 (210 × 297 mm) and a grammage of up to 120 g/m². The fold can be of the types one-directional, parallel (letterfold), concertina (fan), double.
Pr
i

nt

i

ng data

We need printing data in the format PDF X3 with a resolution of at least 300 dpi (even better is 600 dpi, which corresponds to the native resolution of the printer). For each colour we need a grayscale copy. – 100 % intensity black in the file corresponds to a 100 % intense RiSO colour.

Please note that we cannot print marginless. The maximum printable area is 287 × 410 mm. Please provide a margin of at least 5 mm (or more) and refrain from adding cutting marks and margins.

You may find additional resources in the templates.